Wedding season is coming, but brides and grooms have already been planning for months. For such an important day, with so many details… Goodly is here to help you with your groomsmen socks. With the right awesome socks, no one will get cold feet.
One might think bridesmaids have all the fun: matching dresses, fancy hairdos, and plenty of pampering and beautifying treatments beforehand. However, groomsmen can have just as much fun accessorizing! Yes, they usually have to wear the good ol' slacks and button up, and the ties and bowties can only get so creative. It's no holds barred on the socks, though. Go nuts! Classy, colorful, funny, crazy, (our personal favorite with a dark suit) or whatever you like.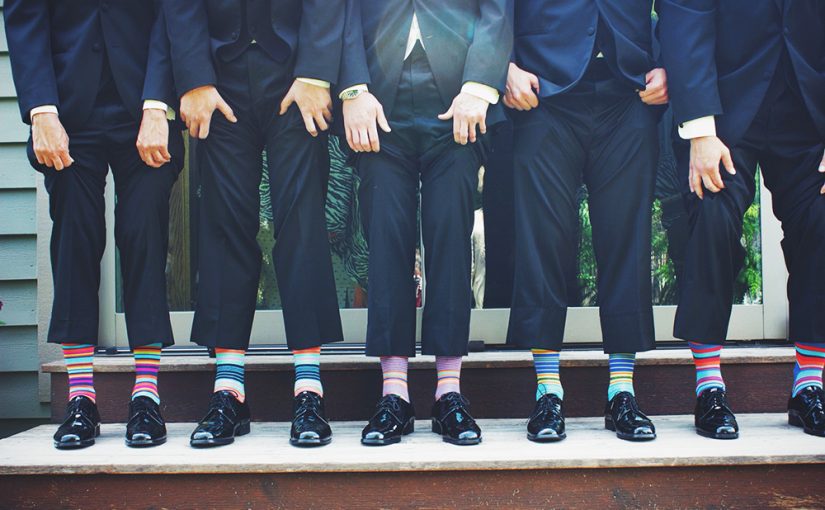 We have a wide selection of socks for the groom and his groomsmen. You know what they say: business on the top, party on the socks. (Alright we may have made that up… Catchy though, huh?)
Let your groomsmen's socks do some of the talking for you on your big day, and give the boys something to look forward to when they are getting ready!
---
Every Man for Himself
With a huge selection of fun pop culture socks here at Goodly, we have something for every man's personality. From The Beatles to pizza, we can guarantee your buddies will love the opportunity to customize their monkey suits, and the photo opportunities will be priceless.
---
Animal Instinct
Whether obsessed with man's best friend, shark week or fishing, each of your groomsmen will have an easy time finding his favorite cool creature in our animal sock selection! Let your buddies show their true stripes while giving a toast, bear their teeth at your in-laws, and wrap their tentacles around losing another buddy to the old ball and chain.
---
Hungry for More
While you completely understand the need for a lengthy ceremony, you are also aware everyone attending the wedding will be much more interested in the reception and, more importantly, the buffet. Let your buddies choose their favorite colorful food and drink socks, and watch their mouths water as they approach that dinner table … or bar.
---
Tell It Like It Is
For when it is time to cut to the chase already. With a huge selection of crazy word socks, each of your groomsmen is sure to find a word or two that encompasses his attitude with ease. For the party animal, the brainiac or the gangsta in your group, there is guaranteed to be something for everyone.
Shop Now!