Novelty socks featuring animal patterns have always been a big hit among our shoppers, and so have food and holiday patterns. But lately we've been seeing a new category of fun and crazy socks surging in popularity: word socks.
In the past year or so, patterns featuring funny phrases have started to become consistent best-sellers for us. They seem to be the next big thing, so, in an effort to hook up all you punny sock lovers out there, we've picked up tons of lots of wordy new styles for this season!
Some of these contain great visual puns, some celebrate pets and other animals, and some are just plain silly. FAIR WARNING: Some of these also have sassy, sarcastic swear words on them, so turn back now if that's not your thing!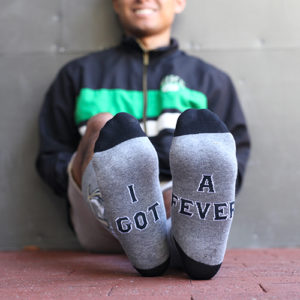 ---
Women's Styles
Lots of animals and sassy sayings appear on our word socks for women, which make a great gift idea for your friend, significant other, mom, sis or co-worker who has a great sense of humor!
---
Men's Styles
SNL jokes, gaming, and so many other hilarious motifs make appearances on our 
word socks for men
. You don't want to miss these!
Shop Now!