Come ride the nostalgia wave with us in new socks featuring Bob Ross, painter and television icon! If you need a little touch of peaceful, positive energy added to your day, then look no further than these cheerful styles.
Who was Bob Ross?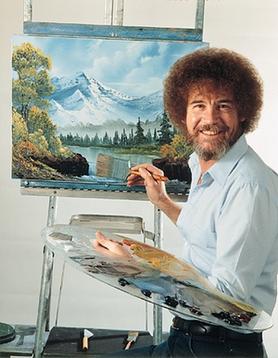 In the 1980s, self-taught artist and retired Air Force sergeant Bob Ross started an instructional painting show on PBS. The show, The Joy of Painting, was merely intended to promote his line of art supplies and painting kits, but it became a surprise hit with viewers, who enjoyed his easy-to-follow instructions as much as his happy-go-lucky demeanor.
While painting lovely landscapes, Ross would add "happy little trees" and speak calmly and contentedly, providing words of encouragement such as: "We don't make mistakes; we just have happy accidents."
Although he died in 1995, Ross' legacy lives on in the hearts of his fans and in popular culture. The Joy of Painting runs on Netflix, and Ross remains beloved for his iconic look, soothing voice, and most of all, his positive message of finding beauty and joy all around us.
---
Sock Styles
Made and officially licensed by popular sock brand Oooh Geez!, our Bob Ross pairs are designed to put a smile on your face. They feature a hand-illustrated style, showing his cheerful face, iconic nature motifs and popular phrases such as a "Good place for my happy little squirrel." These women's and men's styles are also super soft and comfy, made from a luxurious combed cotton blend.
Bob Ross was all about seeing beauty and adding joy to your life, and that's kind of our thing here, too, at Goodly. We're so pleased to add these happy little socks to our lineup, and we hope you will be, as well!