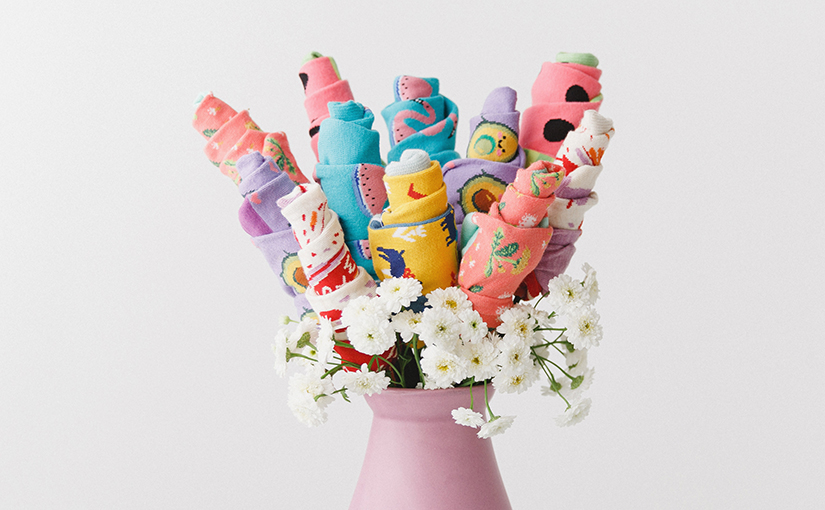 Need a Mother's Day gift idea? We've got the perfect thing! It's thoughtful, adorable, affordable, and we guarantee these flowers will last longer than the real thing!
Here, learn step by step how to make a bouquet of sock flowers. This simple craft project takes just a few minutes and is easy enough for kids, particularly if they get a little help from Dad or another grown-up!
Before you get started, use our Mother's Day Gift Guide to pick out some pairs Mom will love. We've got styles for every personality, whether you're shopping for your own mom or a significant other, a friend or another loved one who's a mom. You'll need at least three pairs of socks for this project, or you can choose any number depending how big you want your bouquet to be. We love the idea of six pairs to make a dozen sock "roses!"
---
Supplies
Here's what you'll need:
3-6 pairs of socks (or more for a giant bouquet!)

Rubber bands

Sticks for the flower stems, such as plant stakes or dowel rods

A pretty vase

Optional: fresh flowers to mix in

That's it! Watch the video below to get started making your sock flowers. There's also a step-by-step breakdown with extra tips!
---
Watch the Video
Step-by-Step Breakdown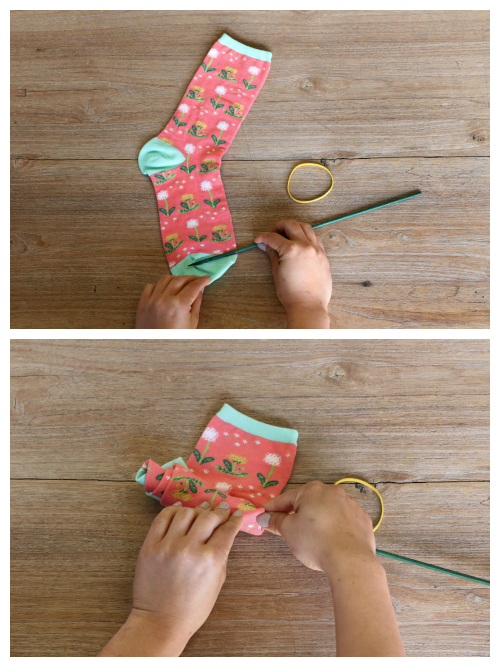 Step 1: Grab your stick, which will serve as a flower stem. We used green plant stakes, which we got in a 25-pack at our local craft store for just over $3. You could also use a dowel rod, a strong piece of wire (like a hanger) or even a pencil! We tried that and it worked just write … er, right. Roll your sock around the end of the stick.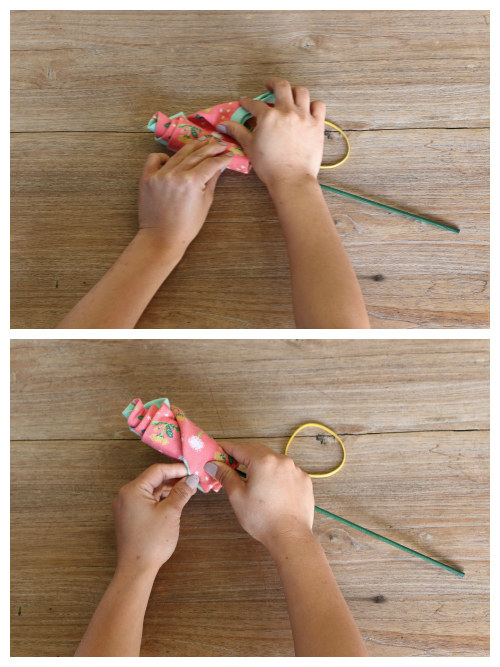 Step 2: When you get to the last couple of inches, fold the sock corner downward as shown. This creates an effect like overlapping flower petals. Remember you don't need to roll your sock in a perfectly even roll. A little unevenness actually makes it look much more like real flower petals! (Phew!)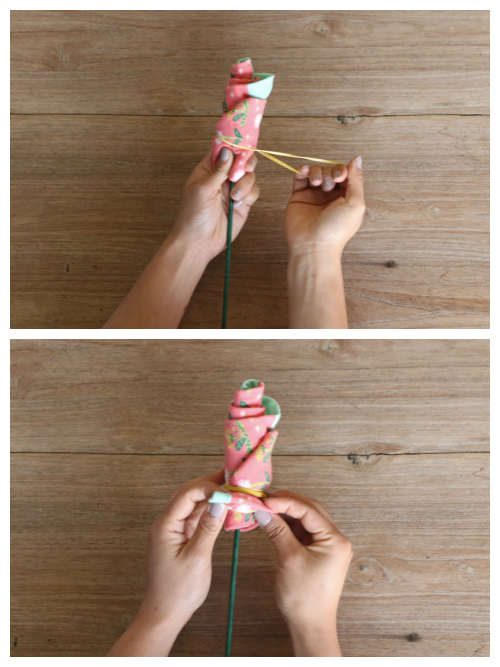 Step 3: It's time to secure your sock flower. Grab a rubber band and twist it around the sock until it's secure, maybe two or three times. Then fold the bottom edge up and over the rubber band to hide it.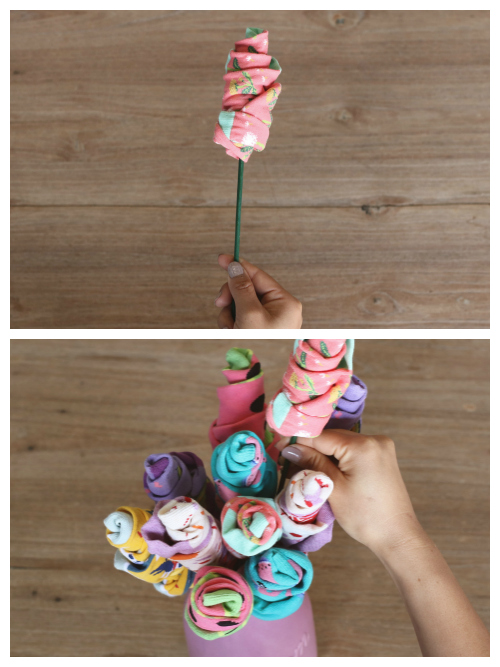 Step 4: Check your flower to be sure you're happy with it. You can kind of pull on the "petals" at this point to tweak their position. Last, add it to your vase!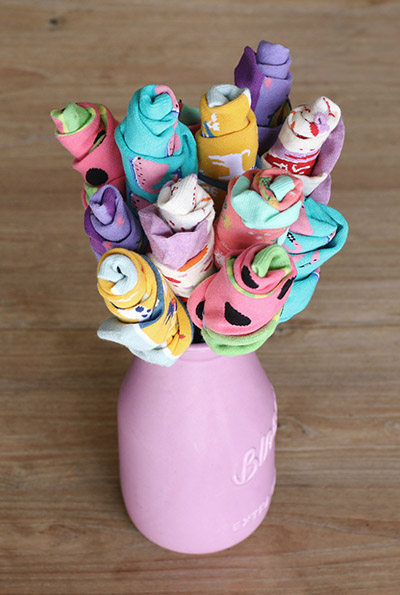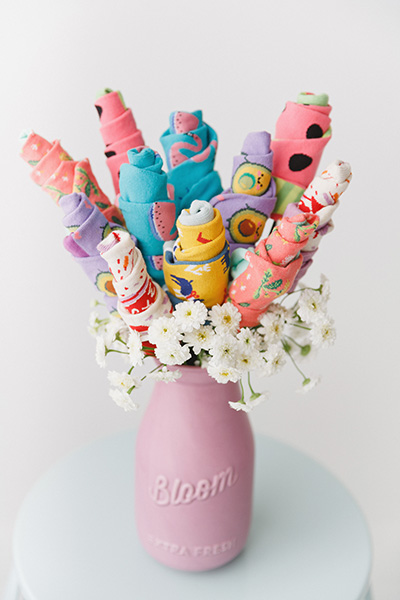 Finishing up: Adjust your sock flowers in your vase however you'd like, just like arranging real flowers. Depending on the size of the vase and how long your "stems" are, you may need to stuff some paper towels in the bottom to lift the flowers higher, like we did (don't tell, OK?). If you're really going all out, add in a few extra real flowers! If you don't have a vase, you can also simply bundle your flowers together and tie them with a ribbon or wrap them in a few pieces of tissue paper, like you just picked them up from the sock florist!
The result is a fun, beautiful gift that we think takes the traditional flower bouquet to a whole new level! Plus, Mom will get to enjoy her fun socks for years to come and treasure them as a memento of your special, creative gift.
Of course, this cool and crafty idea isn't just for Mother's Day! We think it's an awesome gift idea for birthdays, graduations, holidays and lots of other occasions, particularly for all you sock lovers out there!
Shop Now!