We're Heartbroken, but We Get It
For the past couple of years, usually in the summertime, a trend has been showing its head that has us here at Goodly a little taken aback: Men are wearing suits without socks!
We can hardly believe it either. Apparently it's a style choice, and while we were a little upset at first, we certainly support every man's choice to find a killer style that he loves.
Let's look a little deeper into this trend and talk about the right — and wrong — ways to pull it off.
If You're Going to Try It …
This is hard for us, but if you're really interested in trying this whole sockless thing, we've got three tips for you:
Don't actually go sockless. OK, first of all, we just want to say that these guys aren't actually going without socks … we hope. By the end of a day, we don't even want to know what that would smell like. The solution? No-show socks.
No professional occasions. This trend is obviously not the kind of thing you would usually see in a professional setting, and if you're looking to succeed in business, we don't suggest you brave the side-eye of your superiors. Instead, save this option for the other times you might wear a suit: weddings, nice lunches, dates and so on. Also, never try this with a tuxedo. It's just too formal.
Wear it with the right suit and shoes. Choosing the no-sock look means you're probably already a guy who's into cool suit options, such as a summer linen suit, a suit look with bold colors or a suit without a tie, as Chris Pine wore over the summer on Jimmy Kimmel Live! Your suit pants should also be cuffed or tailored a little shorter than you might usually choose, as in the photo at the top of this post from men's lifestyle site D'Marge. Also, pulling this look off means wearing nice leather dress shoes, either in a slip-on or lace-up loafer.
If This Trend Just Isn't for You …
Just because you don't want to try the sockless look doesn't mean you can't also have some fun with your suit style. Skip the basic solid-colored socks in lieu of something a little more exciting!
Some say socks are the new necktie, a way for men to show off some personality while still dressing formally or professionally. We have such a huge variety of men's socks that you should have no trouble finding options you love, and we suggest you go bold! Only a few inches will be visible, and anyone who spies them will be charmed right away.
Here are a few suggestions to help you get started:
---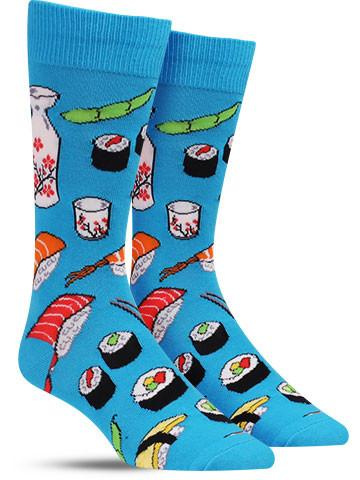 We suggest something bright to really pop off that dark black. These Sushi socks are a fun option for those foodies out there. If you dig comics or superheroes, check out our collection of fun pop culture socks.
---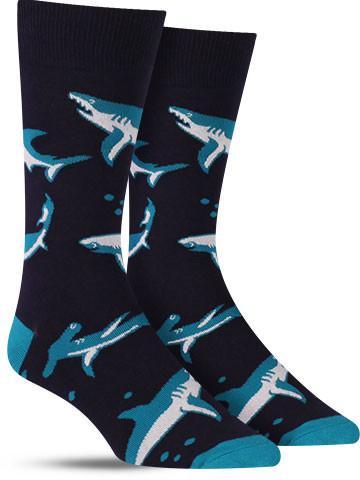 Consider these awesome shark socks from our men's animal collection to go with your blue suit. You can try to match your fun socks to the hue of your suit, or you can branch out into contrasting colors and let the blue act as a true neutral.
---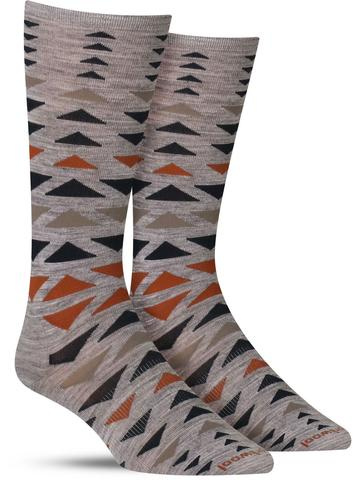 Many colors look great with gray, and we love the geometric pattern on these awesome men's Smartwool socks. You'll still look super-stylish, but without committing to a specific print as in the above examples.
---
Whether you're into no socks or fun socks, we love that you're making fun style decisions! Check back with us often to see what great new men's socks we have in stock to help you do just that!
Shop Now!