Happy Earth Day! We sock fairies love the outdoors, and we especially love rocking the beautiful patterns of nature on our feet wherever we go. If you consider yourself a conservationist or an appreciator of Mother Nature's creation, check out these fun pairs!
Nature Patterns
These are some of our absolute favorite women's and men's styles featuring the great outdoors. Of course, we also recommend you check out our animal socks, too!
---
A Funny Twist
These styles are also all about nature, but they're for those of you out there with a slightly more offbeat sense of humor!
---
Buzzing Bees
We can't mention Earth Day without mentioning Mother Nature's little worker bee! We have so many awesome bee socks for women that we thought you might like.
---
Conservation Efforts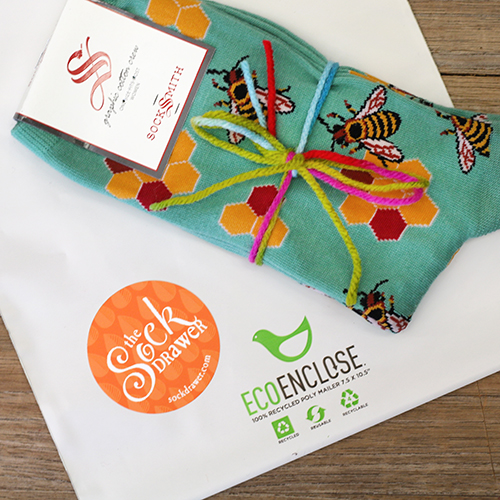 Of course, Earth Day isn't just about wearing amazing sock styles! It's also about protecting this place we all love so much. Down at the Goodly headquarters, we've been making some recent efforts to be more green.
This past fall, we switched over to eco-friendly shipping envelopes. They're made of recycled materials, they are recyclable themselves, and they also have a second adhesive strip inside so all you customers out there could reuse them just as they are. We ship out thousands of packages a year, so we are really proud of this change.
We've also made several other small changes at our bustling warehouse. We switched from single-use coffee pods back to a good ol' coffee pot, we added a larger recycling can to our kitchen area and little cans around the warehouse, and we've been sprucing up an outdoor space with native plants.
We believe small efforts can add up to big results, and we encourage you to consider your own impact on our environment and what daily changes you could make! Check out this helpful guide from the Earth Day Network for ideas on how you can take action.